Wildlife Filmmaking
The advent of nature documentaries..
A rough guide to the history of Wildlife Filmmaking
Before reading any of the individual stories about the pioneering wildlife filmmakers in this section it might be instructive to have some background on the evolution of film, broadcasting and wildlife filmmaking from its inception - read more below: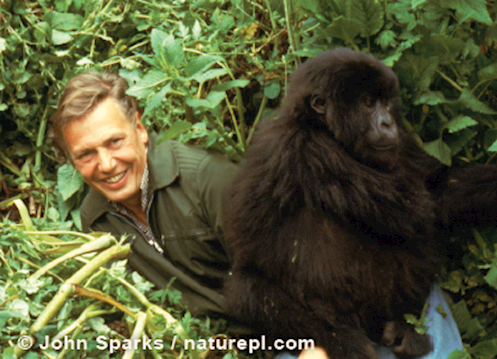 The BBC undertook in 1945 to begin developing natural history broadcasting – but for radio (centered in Bristol). Because radio involved technology to broadcast, television grew out of radio, not out of cinema. In the US, popular radio programs began to migrate to television as soon as the technology was available – indeed, early television was often referred to as "radio with pictures" (rather than, say 'cinema in miniature'). So when BBC Bristol began producing natural history content for television, it was an outgrowth of their radio production, and many of the radio personnel (e.g. Jeffery Boswall) made the transition from radio to television – although it wouldn't be until 1957 that BBC Natural History Unit itself was formally established to produce natural history programs for television.
For television could do something cinema could not: bring wildlife into the home, so to speak. Indeed, this everyday access to nature on television helped send natural history cinema into decline in the 1950s. Even though Disney's "True Life Adventures" were successful in the cinema, Disney had more success with them on television, where they reached larger audiences, and after twelve years ceased prodution of the True Life films (in 1960) to concentrate on television. (In any case, here is where some examples from Disney's "True Life Adventures" might be included and discussed in greater depth – such as the famed lemming sequence from the 1958 film White Wilderness, which I believe is in the WFH collection – although the whole series has come out on DVD this year). At the same time as Disney began taking its films to television (in the mid to late '50s), the BBC began making contracts with natural history filmmakers who had been producing for the big screen – Armand Denis, Hans Haas, etc – to produce short natural history films for regular series broadcast on television. These were essentially 'mini-movies', and although they often included brief introduction segments filmed later in a studio, they succeeded in bringing a new kind of weekly wildlife program to television, with exciting scenes and exotic locations that the old studio-bound programs could not equal – although they were still centered on the 'personalities' of the celebrity-filmmakers. For some years, then, one could see natural history television as a kind of 'struggle' between 'televisual' forms (close-up, presenter-led, live, spontaneous, quickly produced, etc) and more 'cinematic' forms (blue-chip natural history movies, with lush musical scores and higher quality images shot on film, often taking months or even years to produce). In 1961, the BBC encountered competition from Survival Anglia, founded by Aubrey Buxton and Colin Willock. Their films were intended to differ from BBC programs by cultivating what Willock described as a "get-up-and-go image." There was to be more energy, more movement, and more excitement, with an emphasis on action-packed scenes filmed entirely in outdoor locations rather than on discussions filmed in studios. They intended to present wildlife as entertainment The key difference, Willock explained, was that the BBC's Look series was "essentially a chat show with film clips, whereas Survival favoured 'pure' film." Significantly, as part of that 'pure film' model, Survival programs would not include hosts or presenters like Denises or the Haases – although they would, of course, still rely on voice-over narration. Throughout the 1960s, improvements in television technology led to bigger screens, and color images. Zoo shows and other studio-bound wildlife programs began fading away, as television could now begin to compete with cinema by showing wildlife films – essentially one hour movies, with more 'cinematic' qualities, including big, panoramic scenes filmed in spectacular locations. The BBC's first colour wildlife program was transmitted on BBC2 in 1967. In 1968, Survival broke into the huge US market (with Alan Root's film Enchanted Isles), where more TV viewers meant that programs could be sold for much more money. Soon, both Survival and the BBC were selling programs in America – although in slightly different versions to suit American tastes. In 1981, the BBC's first big, expensively produced, multi-part "mega-series", Life on Earth, was sold to the American market, and was so successful there that Americans began demanding more, which, in turn, made more money available for more (and eventually more expensive) production. For more than three decades, then, 'blue chip' wildlife movies were the dominant wildlife format in both the UK and the US. Now, as television goes digital, and as screens get larger and sharper, with surround-sound technology, the early differences between 'televisual' and 'cinematic' styles are collapsing. Today's television viewing experience is far more 'cinematic' than ever before.
Click on the link:Key Events in Wildlife Filming History
Courtesy: wildfilmhistory.org/
---
David Attenborough
Sir David Frederick Attenborough OM CH CVO CBE FRS FLS FZS FSA FRSGS (born 8 May 1926) is an English broadcaster and natural historian. He is best known for writing and presenting, in conjunction with the BBC Natural History Unit, the nine natural history documentary series forming the Life collection that together constitute a comprehensive survey of animal and plant life on Earth. He is a former senior manager at the BBC, having served as controller of BBC Two and director of programming for BBC Television in the 1960s and 1970s. He is the only person to have won BAFTAs for programmes in each of black and white, colour, HD, 3D and 4K. Attenborough is widely considered a national treasure in Britain, although he himself does not like the term. In 2002 he was named among the 100 Greatest Britons following a UK-wide poll for the BBC. He is the younger brother of the director, producer and actor Richard Attenborough.
Courtesy: Wikipedia.org/
Gallery